It's the last day of Tampa Bay Startup Week. Can you believe it? It has been a fantastic week, but all good things must come to an end. We sincerely hope that not only have you had a great time, but you've been inspired and have learned things that will push your startup forward. Tampa is the perfect place, now is the perfect time to be an entrepreneur! But, wait! It's not over yet! Here are some highlights for the last day:
Start off the morning right with a light breakfast from The Little House and other local business at 8:00 am followed by a Keynote Panel featuring some Rising Startup Leaders of Tampa Bay.
Learn how to avoid getting sued at the "Running Away from the Courthouse" featuring Bill Grob, Dee Anna Hays, and David Cohen of Ogletree, Deakins, Nash, Smoak, and Stewart at 8:30.
At 10:00, learn from Megan Koleff, Founder and President of Neuropolitan LLC, how you can control how you interact with social media with "Mindful Posting."
Learn from Adi Arezzini, CEO of Teami, how to grow your brand on Instagram at 11:00.
At 1:00 learn some more Social Media strategy for entrepreneurs from Taylor Moran of The Penny Hoarder.
At 2:30 join Mark and Matt Fetterman, Co-Founders of The Homefront Foundation, for their workshop on "Storytelling for Business."
Join a panel of professionals at 4:00 to learn how they use their brewing business for the good of the local community in "Brewing for Good."
At 5:00 you won't want to miss the second and final Startup Showcase of the week. Join close to 20 local startups as they show off their company and compete for valuable prizes!
Last, but definitely not least, The Official Startup Week Finale Party! At 6:00, join us all as we have food, drinks,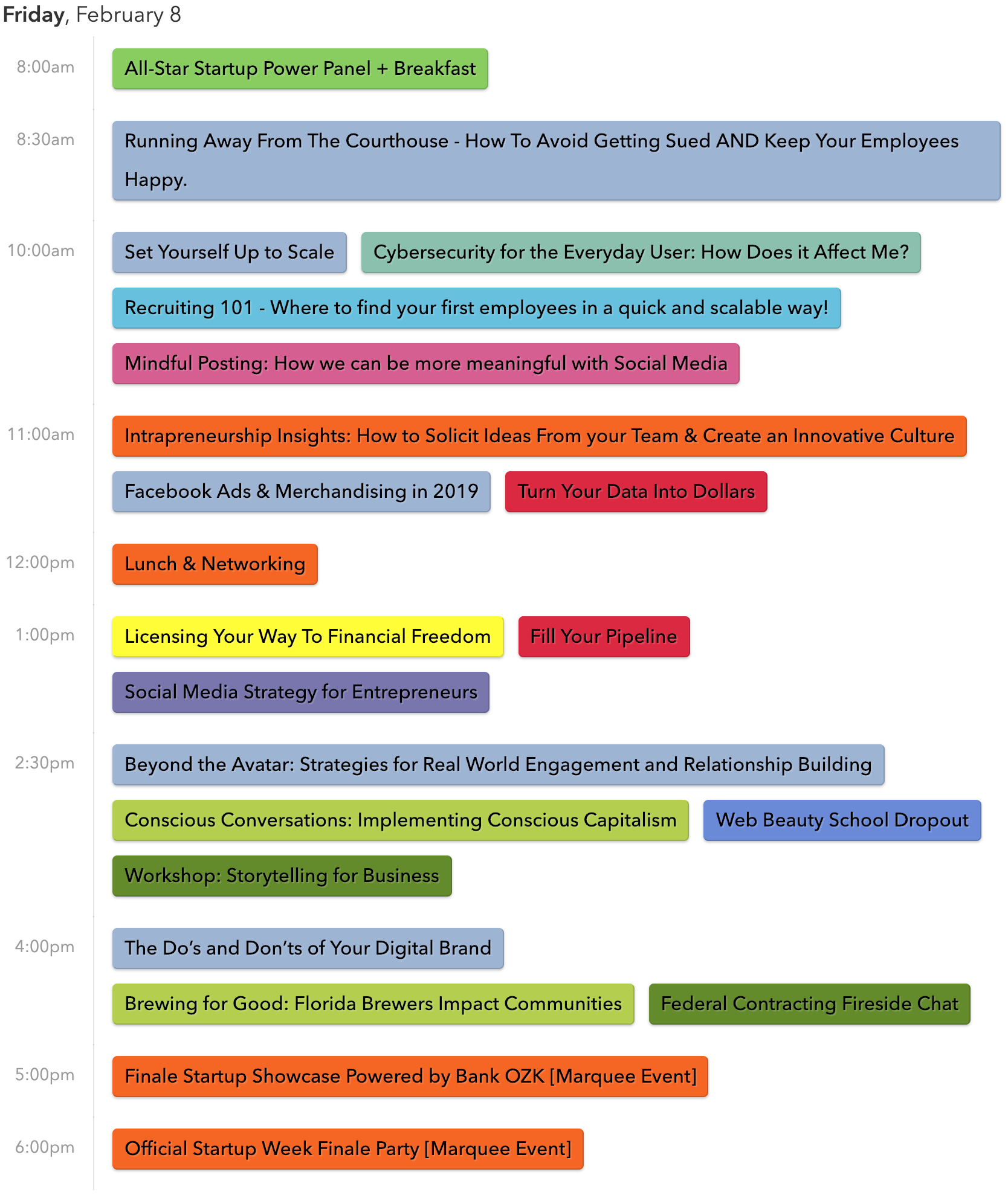 and fun in the basecamp at the Gathering in Armature Works and celebrate Tampa's entrepreneurial community!
There are a few more events going on today that haven't been listed above, so go through the full schedule below and click to register for your favorite ones. We've certainly had a great time with you guys this week and we're already looking forward to next year!