Heard of Lunchpool yet? What started as a quick, one-minute pitch at our recent Techstars Tampa Bay Startup Weekend event has quickly gained traction and propelled into early-stage startup territory. We had a chance to speak with one of Lunchpool's co-founders, Alex Abell, about his experience at the event and his thoughts on Startup Week Tampa Bay.
SW: When you entered the competition, what were your expectations?
AA: I honestly didn't know what to expect. One of your organizers, Allison Barkley, suggested I enter the competition in the weeks leading up to the event. I registered and came up with a random idea to solve a problem I was having at work the day before, unsure if I would pitch or just be a passive observer. When pitching time came, I thought, "What's the worst that can happen?" I had no clue I'd be forging amazing friendships and connections and walking home with a huge trophy.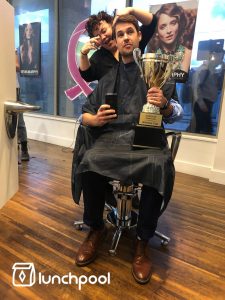 SW: Speaking of the trophy, we heard you took it around for a day on the town after winning. What's that about?
AA: HA! I guess the excitement from winning the event got the best of me. I took it to work with me, got a haircut with it, had a popsicle, and took it everywhere I went that day. I can't stress enough how impactful participation was in my life. (See the album on our facebook page)
SW: Aside from winning, what else would you say has changed?
AA: I have been entrenched in Corporate America for the past 10 or so years. I always knew I had entrepreneurial inklings, but being around so many other passionate entrepreneurs was invigorating. It showed me that I can balance my day job with my family and still pursue building a startup. I wouldn't have to do it alone! I really had no idea that the startup community was so strong in Tampa.
SW: Tell us about the team you put together.
AA: I can't take credit for putting it together. It kind of happened like the Big Bang. I pitched my idea, we got selected to proceed, and then magic happened. All the attendees were scrambling to find a team to join or recruit people for their team. After about 10-15 minutes, I had before me a random crew of highly skilled individuals from all over the world. Our team members weren't just from Tampa, but from Jacksonville, the UK, and Poland as well. It's really a diverse, unique crew.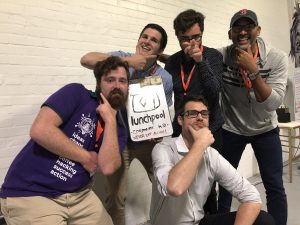 SW: And you guys turned it into an actual business?
AA: That's right! We recently registered the business and signed on our first of three beta trial companies. We're actively seeking a couple of mid-size Tampa companies to test and optimize our beta before releasing to other companies. We're all really driven to solve the problem of isolation in today's tech-focused organizations. We think that our app can bring people together for self-organizing internal networking over lunch.
SW: Do you guys have plans to attend Startup Week in February?
AA: You know it! I've heard so many good things. This will be my first year, but after the life-changing experience of the Startup Weekend competition, I am ready for more! The energy of being around so many entrepreneurial folks is invigorating. It's like being around all those innovative thinkers, developers, marketers, etc gives you the motivation to really make something happen! I'll definitely be there with my lunchpool crew.
SW: Any tips for other first-timers?
AA: If you're on the fence about joining a Techstars event, hop on over! It can connect you with all the people you need to make your dreams a reality. Highly recommended. Also, check out lunchpool and maybe let's grab lunch? ?
Alex Abell will be speaking at what should be a fantastic talk titled "YOU GOT THIS – How to Deal with Imposter Syndrome," a part of the No Excuses track Thursday, February 7th at 10:00 pm. Register and sign up today!
Blog brought to you by